CREATING COMMUNITY THROUGH A COLORING WALL
The Ohio Home + Remodeling Show is all about finding the inspiration and advice you need to tackle your next design or renovation project. While you're here, try your hand at leaving some inspiration for other people by adding some color and flair to the interactive Columbus cityscape mural, presented by the Greater Columbus Arts Council and created by local artist Bryan Christopher Moss.
Inspired by the fact that inclusivity, caring, and a sense of place are important parts of life for Columbus residents and visitors, the piece that Bryan has created for the show reflects the Columbus city spirit of 'If it's not for all, it's not for us.'
"I always go for something that's inviting, that brings people in," said Moss. "I wanted to capture the feeling of excitement - so when people see the coloring page – and it's just this black and white thing – they want to draw on it. And, I wanted to communicate that enthusiasm, support, and those good feelings. I didn't want it to be intimidating."
Bryan is a painter, muralist, illustrator, and educator from Columbus. Working as a professional artist for the past 20 years, he is an Art Makes Columbus featured artist and has been profiled in national publications such as Forbes Magazine. Moss teaches comics and illustration at Columbus College of Art and Design and the Columbus Museum of Art.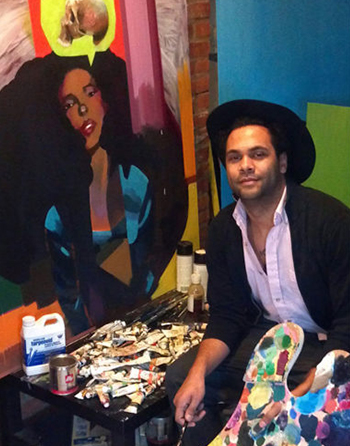 You can follow Bryan Christopher Moss' work on Instagram or through Art Makes Columbus
You can visit the Coloring Wall at The Ohio Home + Remodeling Show all weekend long. Anyone is welcome to participate, and the project is active during all hours of the show.
Jan 22, 2020, 13:47 PM