GETTING TO KNOW TY PENNINGTON
If you had a TV in the early 2000s, you most likely remember Ty as the energetic carpenter from the hit show "Trading Spaces" and then as the charismatic host of "Extreme Makeover: Home Edition," who knew how to tug at your heartstrings through the level of care he put into each project. Now, he's returned to TV to revive "Trading Spaces" as a carpenter and designer.
Ty will be visiting the Main Stage at The Ohio Home + Remodeling Show on Saturday, Jan. 11 at 1 p.m with his Life to the Extreme - Ty Pennington presentation. Be sure to mark this on your calendar so you don't miss the laughs and valuable advice he's sure to share!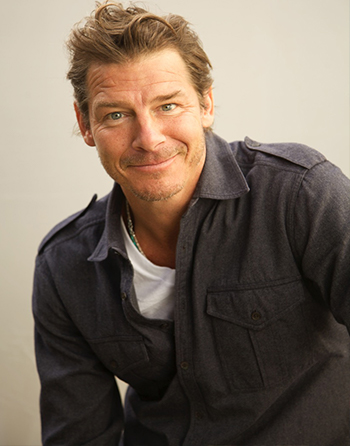 Wallpaper: Love or Hate?
Ty: I think wallpaper has come a long way from the dated florals and borders that we saw in homes for the better part of the century. I also like how peel-and-stick options have become available so that you aren't as committed to a look as you would be even if you painted it. Taking it a step further is the option to customize the wallpaper with your own designs, images, or photographs. So yes, I say love it.
Best décor or home improvement app that folks don't know about?
Ty: You can't beat Houzz or Pinterest for getting the design inspiration, and if you want to verify resources for a project Porch.com is a great place to start.
The best home purchase for under $100?
Ty: I don't know if it is one specific thing since every home could probably use $100 in different ways. I'd say to make sure that you spend the total amount on one room to revitalize it. Don't buy a bunch of pieces here and there and scatter the impact … focus and get one space at a time updated.
Any simple tips for upgrading a small bathroom?
Ty: Storage is always the problem in any small space, so look to resources that can help you to maximize that part of the room. Boats, ships, and small apartments in Tokyo are great places to look for inspiration – seriously. They use space in the most efficient way out of necessity.
What are your best landscaping tips?
Ty: I like to design in odd numbers, so planting in threes (or fives) is the best advice I can give. And don't be overambitious unless you're going to actually have time to maintain it. Or a gardener.
Q: Are you a fan of the Marie Kondo method? What's your best organization hack?
Ty: Ideally, we'd all only keep things that 'bring us joy' as she advocates for, but in reality, my best organization hack is to rent another storage unit for all of the things I love to acquire and swap in and out of my spaces. Maybe I should start a real estate staging company so all of these amazing pieces get used - ha!
Favorite room in your home?
Ty: I have a room that is an entire room of doors that open up to the outside area and I really love how that merges indoor and outdoor living.
Any furniture thrifting tips?
Ty: Look for good bones. You can change the fabric or paint color of just about any piece you find if it has the structure or size you want.
What are your 2020 resolutions?
Ty: I know I'm the guy that is known for makeovers and hopefully feel-good stories, so I've been really focusing my efforts on doing that globally. I've got some projects that will "makeover" the coral reefs and oceans, and allow me to be a part of something bigger. At least that's my goal – to have a positive global impact. Look, I know I'm in a really lucky position to have been given a platform and opportunity to reach a lot of people, and I take that seriously.
What home trends are you loving? What styles do you think will emerge in the future?
Ty: I've always been drawn to Scandinavian and mid-century design. I like seeing how those have not only stood the test of time, but they've also morphed into a modern-day design without losing their aesthetic. Simple, functional, but always inviting.
What's your favorite part about speaking at a home show?
Ty: Actually attending the home shows is amazing because I get to see what's out there or coming onto the market. But speaking is great because, well, I love hearing people's stories about their own DIY experience or how they were affected by or my ADHD.
Jan 22, 2020, 13:43 PM