HOW TO GET THE MOST OUT OF THE OHIO HOME + REMODELING SHOW
As we get closer to The Ohio Home + Remodeling Show, which starts on Friday, Jan. 10, now is a great time to review the show schedule so that you can make the most of the three days that the show is on. On our website you can find the full Main Stage schedule, the many Show Features and a full list of exhibitors, but here are some tips for how to find what you're looking for.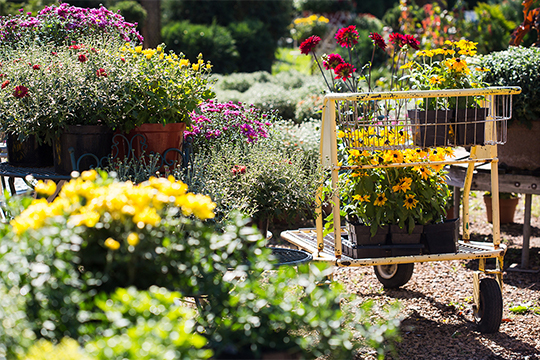 If you want tips for your outdoor projects …
You've come to the right place! When you enter the show, inspiration awaits you as you walk through the Outdoor Oasis display by premier landscaper Peabody Landscape group and Hamilton Parker. And if you're designing with the family in mind, you can't miss the Recreations Outlets KidZone, where kids can whoosh down the slides, soar on the swings or jump to the sky for some good old-fashioned playground fun.
And throughout the weekend, Jason Bornhorst of Peabody Landscape Group will be on our Main Stage to feature several presentations of Outdoor Living: Tips & Trends for 2020 with Jason Bornhorst of Peabody Landscape Group. You can catch his presentation on Friday at 3 p.m.; Saturday at 4 p.m.; and Sunday at 1 p.m.
If you're looking for the latest design trends …
Maybe you're looking for inspiration on how to upgrade your kitchen, or maybe you're just wanting to freshen up your home, but you're not quite sure where to begin. These events and show features might help you figure out where to start.

On the Main Stage, you can hear Cathy Polta from Kitchens. Inspired. present on Planning Your Appliances in Your Dream Kitchen on Saturday at 12 p.m. Then on Sunday, Michael Koludrovich of Array Design Studio will present on The Universal Design Method at 12, 2 and 4 p.m.

All weekend long, you can tour the He Shed She Shed exhibit and learn how to design and create your own shed oasis. Whether it's a nature-nest, writer's retreat, man cave or wine tasting room, He Shed, She Shed will spark ideas for creating any type of retreat space.

And, if you're looking for odds and ends to help your home office, dining room or family space come alive, you can shop The Marketplace for unique home products and goods for purchase at the show!
If you want some DIY inspiration …
Celebrity emcee Matt Fox will present on Great Weekend Projects throughout the weekend: Friday at 2 and 4:30 p.m.; Saturday at 11 a.m., 5 p.m. and 7 p.m.; and Sunday at 11 a.m. and 3 p.m.
Are you having trouble picturing the final result of a room remodel? Be sure to attend Before, During and After Remodeling with Bryce Jacob, CR, UDCP of J.S. Brown & Company on Saturday at 3 p.m.
Local design experts and DIY bloggers will be sourcing and re-purposing any four-legged item in our Drab to Fab show feature. Check out their projects to help yourself visualize the potential of an old table, dresser or chair. And if you fall in love with a piece, you can bid on it in an auction to benefit Habitat for Humanity.

For a Full Show Schedule see: HERE
Jan 22, 2020, 13:57 PM